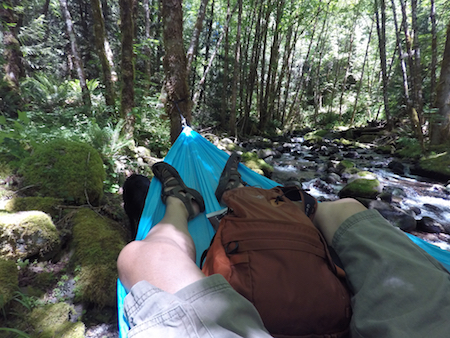 By John Rezell
     Whatever you do, don't read this.
     I'm serious.
       Stop right now.
       Google something.
       Hit one of your bookmarks.
       Hell, go back a page.
       Turn off the computer.
       Whatever, just don't.
     Do not read any farther. Stop. Again, I beg of you.
     Just step away from your computer. Run like hell.
     Whatever you do, please, by all means, do not read to the end. Never, under any circumstances, share this. In fact, if anything, close this page right now and call/text/email/write everyone who means anything to you and simply share with them, my mantra:
     Whatever you do, don't read this.
     If you insist, I'll tell you why. But then it's over. Got it?

     It goes something like this:
     I can't remember exactly when I stopped reading fiction, but I sure as hell can remember why: My own life became much, much more interesting than anything I've ever read in a novel.
     I didn't have to suspend my beliefs.
     I didn't have to exaggerate my details.
     I didn't have to enhance the quirkiness of the individuals buzzing in and out of my life.
     I didn't have to, for any reason whatsoever, escape from my life.
     No sir. I had to dive into my life. Head first. Full throttle. I didn't have time to waste with my head down and nose in a novel. I'd miss too damn much. Miss life. Not just any life, my life.
      I know. Enlightened ones tell you to read. Read, read, read and then read some more. That's the way to become a good writer. Read the good, the bad and the ugly. Then copy the formula. What irks me is that the reading considered to be good isn't writing about good at all, it's writing about the bad and ugly sides of life.
      The good? Who wants to hear it? I've been told if your life is great, keep it to yourself.
      Misery loves company. Maybe that's why I'm a loner. I've got a great life. Wonderful experiences. No super dramatic crisis to overcome. Anyone interested in reading that? Not according to publishers and agents.
      See, it's like this. There are writers and there are writers. There are writers who listen to all that golden advice, play the game, and know the joy of seeing a book with their name on it sitting on the shelf in Barnes & Noble because they followed the same formula as the book sitting next to it.
     And, there are writers who just write.
     Not to make money.
     Not to become famous.
     Not to escape life.
     We write because that's who we are. It's what makes us tick. It's our life. Frankly, we couldn't care less what someone else thinks of our writing. Because writing is not always about being accepted by everyone else, or revered by your peers, or sitting next to Oprah.
     For us, writing is about expressing ourselves. Chronicling our lives. There are countless writers who are the former and believe they are the latter. They'll tell you that every writer wants to be heard. Wants to be understood. Every writer needs an audience. Acceptance. It's the essence of writing, they say.
     Sorry.
     Not for everyone.
     Not for me.
     I'm a writer who writes for me. Audience of one.
     This all comes to light now for a couple of reasons. The other day it dawned on me that I can't remember, ever, wanting to be someone other than myself. I never remember looking at anyone and thinking, "God, I wish I were him (or, probably more thankfully, her)."
     I can't remember wanting to live anyone else's life but my own. That's powerful stuff. At least in my mind.
     High school, that's when it became obvious my life was more interesting than anything I'd read in a book. That's when I found myself, and understood that the only voice worth listening to is the one that speaks from my heart. My soul. That's when I entrusted my life to my instincts, and realized the power of the experience of life.
     As in living my life, not reading about someone else's life.
     When I got dumped and had my heart broken, that pain, that agony — that tsunami of emotion was real. Not something concocted in someone else's mind and put to paper.
     It was my emotion.
     My pain.
     I felt it, and as hard as it was, it let me know that I was alive.
     Connected.
     Living a life.
    Mistakes hurt. Badly. Disappointment and frustration are no picnic. Yet, lows make highs so much more fulfilling. Highs make lows much more tolerable. That wonderful, peaceful place in-between became the most amazing part of life. Nirvana. The place where, instead of reading about someone else's life, I was living mine. Writing mine.
     I'd write about an amazing sunrise, stepping to the window in a small hotel room in Venice, watching a fishing vessel slice into the glassy glowing surface of the Adriatic as it headed out to sea. To deliver someone else's life to destiny. I'd turn away, and savor the beauty of Debbie, asleep like an angel. Sure, Venice is for lovers. But that feeling takes my breath away wherever I glance at her. Venice. Austin. Boulder. Carlsbad. Dubuque. Eugene. Fort Atkinson. Galena.
     As I write, my fingers caress the keyboard with a tingle. I pause and read my work. A sensation bubbles from deep within, and rises to a grin cutting across my face. No, not a grin. My smirk. The ultimate fulfillment. Capturing the exact moment in the perfect words. My words.
     I'd write about other sunrises, dawning well into mid-morning in my noggin, as I type. Eventually, months later, after countless rejections, I'd wonder if it was just my imagination. If it was only in my mind that the words were perfect. Or, even true. I'd wonder if the sun could really flood the sky with a soft orange glow as cirrus clouds paint the edges of the horizon in stunning streaks of purple. Who the hell would believe that just because I wrote it? Can it really look like that?
     I'd debate it in my mind, almost endlessly, then load my daughters into the car, and drive to grade school. Just before we'd turn the corner, rolling through the hills of Tennessee, I'd peek in the rearview mirror, and see those bright, lovely faces of my girls. Sparkling eyes soaking in life, unfiltered, as only kids can.  

     My heart would skip a beat.
     My stomach would flutter.
     One of those moments, like writing my perfect sentence. True joy. Then Sierra would say, "Wow, Daddy, look at that sunrise!" I'd look. And I'd see the sun flood the sky with a soft orange glow as cirrus clouds paint the edges of the horizon in stunning streaks of purple. This is the magic of life. Of writing.
     Not for an audience.
     Not for anyone, but myself.
     My fascination with reality drew me to journalism. Non-fiction. I explored life through the eyes of countless people. My interviews became discussions. About life. I found truth to be exponentially stranger than fiction. Not to mention easier to find. It's everywhere. All around me. Not bound in a book.
     I found that if I listened to my heart, my soul, my writing followed.
      My life continued to be my greatest work. I know because I'd see it in the eyes of the beholder. At parties. At interviews. At family get-togethers. At the checkout line. I'd see others bobbing in a sea of amazement. Wondering what it would be like to walk in my shoes. I'd wonder why others couldn't, or wouldn't, take those steps of faith on their own. Why they couldn't, or wouldn't, live life to its fullest.
      For a time, I thought my calling might be just that. Delivering that message to others. Helping them find the joy I find in almost every moment of life. How to do that? Writing, of course.
     I embarked on that crusade. I've had every door figuratively slammed in my face. Completely shut out.

     With a novel. 

     With screenplays.
     With memoirs.
     I don't have what others want. 

     Want to read, that is. My guess is that it's a little to sugar-coated. The rah-rah cheerleader in me comes out. I don't shock just for the sake of shock. People will listen to me talk for hours. But the guardians of published writing appear to believe no one is interested in my stories. My life.
      I suppose I should be crippled by disappointment.
      Consumed by rage.
      Determined beyond measure.
      Obsessed to write, literally, this wrong.
     To please an editor or agent, if not an audience.
     None of that applies to me. Creating that drama would be fiction. It's not part of life. My life. That's what makes it, to this day, more interesting than anything I've ever read in a book.
     To most, I assume, it seems logical that writing and reading would be linked at their core. Yet writing is life in the moment, while reading is escaping the moment. At least your moment. Substituting a moment in my life for a moment in yours. The desire to do so is so foreign to me.
     I told you not to read this. You should be out living life instead reading a rant that is written, as I said, for me.
     This all started with my desire to actually write for a pinch about some books I actually have read recently. Trapped in the travel tunnel, waiting for flights to arrive and depart, hours in the air, I found time to read. I read biographies of Steve Jobs, Bill Walton and Phil Knight.
     Yes, they've done some amazing things in their lives. Nothing that would remotely interest me, or give me satisfaction. Still no, "I wish I was him" moments.
     No, more like, thank goodness I'm not like them.
    Great success, those books will tell you, comes at a great price. To a man they apologize to those closest to them. Their families. Their kids. Their soul mates. Their personal quests were at the top of their priority lists. Sad, but true. Some call that success. I call it tragedy.
    I wouldn't trade any of their successes for the relationship I have with my girls. Not for the honor of saying I changed the world through electronics. Not for the thrill of winning championships. Not for the ability to build stadiums in my honor.
    I told you not to read this.
   Go spend some time with your family.
     Get outdoors and let nature wash over you.
     Listen to the birds.
     Smell the flowers.
     Take off your shoes, and feel the Earth squish between your toes.
     Jump in a cold, crisp lake and feel every cell in your body scream IT'S GREAT TO BE ALIVE!!

    That's what I plan to do.
    But that's just who I am.
     Then I'll sit down and write about it.
     So go!
     Now!
    EDITOR'S NOTE: Once again, my Saturday Morning Blog will go on hiatus for the Summer because, well, you shouldn't be wasting your Saturday mornings reading my drivel ... See ya after Labor Day, when I break out everything white in my closet. Why? Heck, I'm a rebel, dontchyaknow!

Categories: None