| | |
| --- | --- |
| Posted by johnnieraz on October 24, 2020 at 2:30 AM | |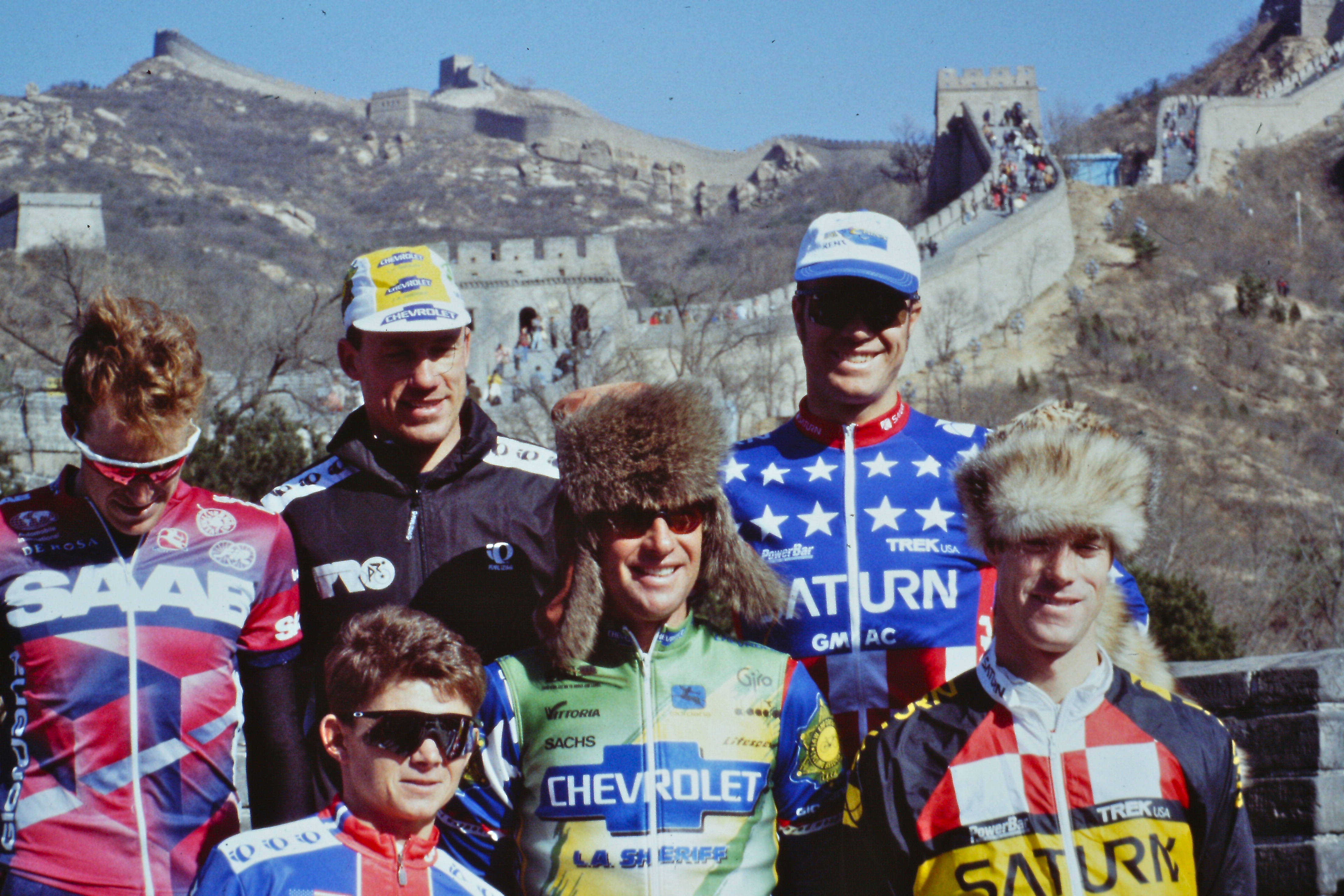 By John Rezell
    Strange how life spins in circles of chaos, yet I bathe in an aura of peace and serenity.
     Jimmy Thesaurus and I were wasting away some time in our hotel room on the fifth floor of a hotel in Shanghai a mere 25 years ago, the air pollution so horrible that we couldn't even see the street from our window.
     We were shooting the breeze when Jimmy T posed the ultimate question for analytical minds like his: Raz, what they hell are you doing? What's the plan?
       I laughed because I just finished my second full year of covering cycling in the US as a freelancer, but I had no real plan. I knew I was the envy of other American-based cycling freelancers because they knew I was making a boat load more money than they were.
       Still, I wasn't really making ends meet, so you can only imagine what discussions are like with their wives about their future. So, I told him straight up. Jimmy T, I have no plan. I don't know where this is going to take me. I just know that it's the right thing to do.
     Complete silence.
        I looked over and Jimmy T's jaw was on the floor. Look up agape in Webster's, and his portrait should be there.
        Stunned to silence.
        No response.
        I shut Jimmy T up — trust me, no easy task.
        But it was honest, and true. I managed to make it this far in life pretty much letting life happen. I believe with all my essence in destiny. Life happens exactly the way it supposed to happen, and there is no sense in trying to breakdown the details.
      Back to my future, 25 years later I sit at my desk enduring this wacky year of 2020 with no real plans other than continue to spend every morning in search of someone who might be willing to hire me to do, well, who knows what my next gig will entail.
       Covid robbed me of my job as a magazine editor and my secondary role as a substitute teacher. Of course I believe my prospects are promising, but that's the obsessive optimist in me keeping me in that aura of denial.
      I just look back at my past and I'm overwhelmed by the wonderful life I've enjoyed and wild experiences I've savored. So to liven up this Saturday Morning, I'll share one of my favorite tales.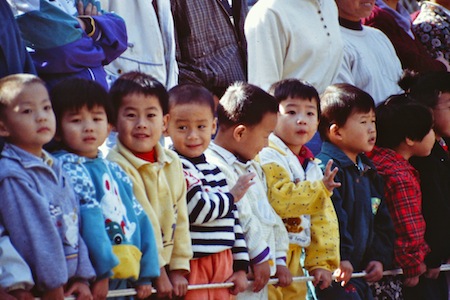 Yep, 25 years ago was the first Tour of China. The first time the top bike racers in the world rolled around that country back when it was still pretty hidden behind its communist curtain.

     There are plenty of stories from that trip in A More Simple Time: How Cycling Saved My Life and if you go buy a copy, well, it will at least make filling out my taxes a little more interesting.
     The story I'll share was spending a great day at the Great Wall of China with a handful of riders chosen to get to spend a few hours at the wall.
      It was a publicity op. A gang of journalists went with Americans Norm Alvis, Steve Hegg, Andy Bishop and other riders including a group of guys from Mapei-GB that had, among them, Gianni Bugno. And, of course, my favorite Russian, Viatcheslav Ekimov.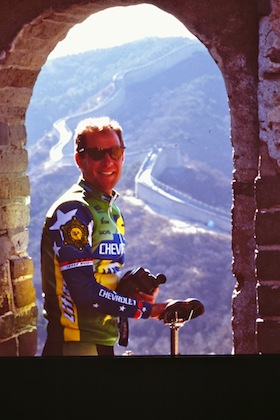 We got the chance to see these guys play around on the wall like little kids. The rest of the entourage would see the Great Wall for a moment or two during the next day's race. That was it.
        I had to have some sort of souvenir — something to remember this moment forever, and then I saw it. A small stand with a guy selling furry Elmer Fudd hunting hats, you know, a cross between Elmer's hat and something Attila the Hun would wear — ear flaps and all. I went over and asked if he spoke English. He shook his head no. I asked, how much?
        And away we go ...
     "One-hundred American dollar," he says.
      I laugh at him.
      "Oh, no," I said, "twenty!"
      "Twenty!?!" he screamed, as if to serve notice to everyone around that a bargaining battle had commenced. "Oh, no, dis is Fox! Feeeeel."
       He thrust the hat into my hands and invited me to feel the fur. Okay, it felt really soft and nice. But hell, I don't know the difference between fox and squirrel and whatever they make fake fur out of. Besides, I knew somewhere along the line I was going to take some serious flak from animal rights folks, so, if it really was fake, really, all the better for me.
       "Nice, huh?" he said, raising his eyebrows.
       I looked at him.
      "Yes, nice. Okay," I said, "I'll give you ... Twenty!"
       He crooned like a little kid pretending to die a slow death.
       "Oooohhh, twenty!" he whined. "No way. Dis is Fox. Real thing. Not fake. Eighty."
       "Eighty Chinese?" I countered.
       "No way, eighty AMERICAN!" he shouted.
       "Eighty American?" I asked for confirmation.
       He nodded.
       "Okay," I said, stretching my pause, "how about ... Twenty!"
       "You kill me," he said, "twenty? But this is FOOOOOXXXX!!!"
       "Are you sure," I asked, dropping my Boris/Natasha accent on him saying, "looks like squirrel to me."
        "No, no, no!" he screamed! "Real fox. Squirrel. No, no, no. No squirrels at the Great Wall of China. No way."
        "Okay, then ..." I said, "I'll give you, twenty."
       "SIXTY!!"
       "Twenty."
      "FIFTY!"
      "Twenty."
       "What your problem, man, dis is Fox?" he said, both annoyed and confused as his ability to speak English suddenly increased. "Great Wall fox. You don't get nice stuff like this anywhere else. You see other Fox hats here?"
        "Well, yes, that guy over there has the same hat," I said, calling his bluff.
       "Oh," he laughed, "those ARE squirrel. Okay, for you, Forty."
        "You make a good point," I said, and he cracked a smile. "Pretty good for someone who doesn't speak English, eh? Fine, then ... Twenty!"
         "Forget you," he said, surrendering. "No way. Twenty? I don't need this. Go buy squirrel."
         He turned away from me and tried to sell something to the riders who had showed up to watch the proceedings.
       "Fine," I said, "that guy over there has some neat stuff. Nobody will know the difference."
       I turned.
       "Thirty!" he screamed.
       "Thirty Chinese?"
       "Thirty AMERICAN!"
       "Really?" I said.
        "Really," he said, not too happy.
        I looked at Scott Mercier.
        "That's a pretty good price," I said to him.
        He nodded. So did the salesman.
       "Okay, enough," I said, "twenty. Final offer."
       He looked me square in the eye with a sparkle. I could tell he could really care less what he got for the hat. He just loved the bartering. We had been told that the locals love to barter, but I never really thought about it too much.
        "Fine, twenty — AMERICAN!" he finally said, "But you no fun."
        I laughed and gave him a $20 bill. American.
        Then I went out and began to get photos of all these cyclists, donning my hat, on the Great Wall of China. My two favorites are Bugno and his gang. The best, of course, is Ekimov. It captured a look of him that I don't think anyone thought they'd ever see. Somehow, he always seemed to show me a different side than others saw. Everyone thought he would win the title in China, no problem. The thing was, he was really on vacation. He had his wife with him. It was neat seeing him wandering around with her every chance he got.
        I talked about Eki with Jimmy T, how I thought there really was a lot more to him than people gave him credit for. When Jimmy T saw me taking his picture with the hat on, he could not believe his eyes.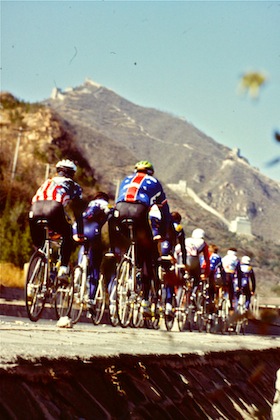 Categories: None