| | |
| --- | --- |
| Posted by johnnieraz on October 10, 2020 at 12:00 AM | |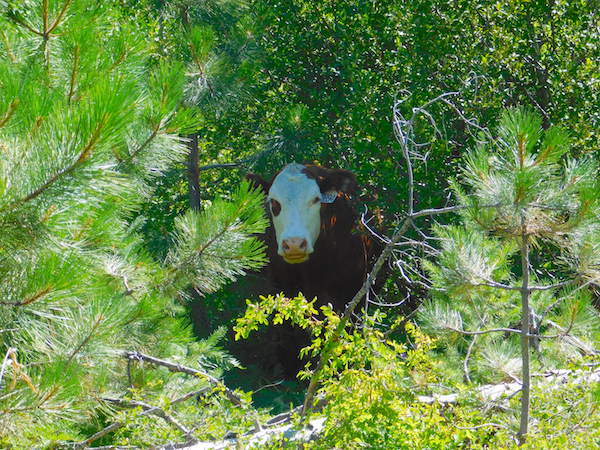 By John Rezell
     After climbing a gravel mountain road for more than 90 minutes enduring countless cow encounters on the open range, the trailhead sign finally appeared at the end of the road.
     You call this a trail?
     With no signs that any humans have trekked here recently, if ever, I started pushing my mountain bike up the muddy cow path.
     The map at the campground showed that this trail would connect with another near the base of Council Mountain peak, and I would ride the second trail back down to the road to the campground.
     I never imagined the ride would play out with an endless line of cows wondering what I was doing in their 'hood.
     The cow encounters pretty much worked the same way. Big mothers would stand their ground and stare at me, freaking me out that they might decide to be overprotective to their calves.
      Meanwhile the calves would either follow mom's lead, or go ballistic.
Cow Chaos
     The calves would run up the road, or up into the woods, in a panic. For about 20 feet.
      Then they would turn for a standoff. Only to scoot again.
      By the time I reached the trailhead, I figured I out-climbed the cows. Judging by the trail, not so much.
      After pushing my bike up the trail for 45 minutes with short bursts of rideable terrain, I zipped around a corner to startle a gang of about 10 cows, who scattered into the woods.
     Just about then I realized that, if a gang like that decided to head off the beaten path, I would have no idea that I was following a renegade trail.
     Another hour in, that became a moot point when the trail just, well, disappeared amongst a plethora of cow paths.
     I explored a number of them, all eventually turning to dust.
     Oh, I did find a trail sign, knocked down and leaned up against a tree at the junction of a couple of paths. Neither went anywhere.
     The views were tremendous. I just turned around and headed back down the way I came.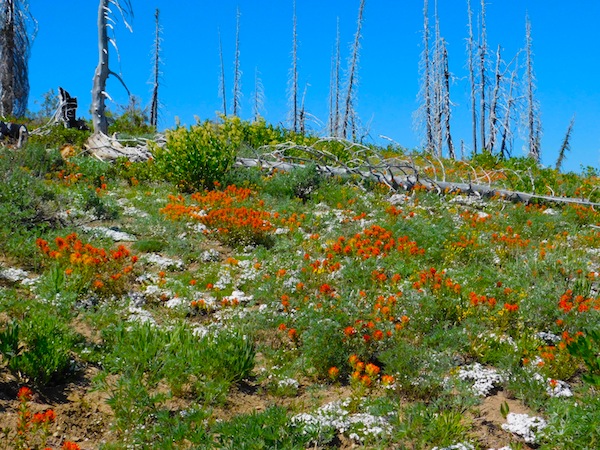 That was all fine and dandy, until I came upon that gang of cows.
     This time they burst into the woods. I continued down, and heard loud cracking and crushing of trees.
     To my right, I could see a mini-stampede through the forest. They were trying to cut me off at the pass!
     I hammered a little harder than my handling skills would typically allow, and I managed to beat them to the cross-section.
     After five hours, I made it back to camp only to find three cows breached the campground fence and were grazing at the entrance.
     Holy Cow, what a day.

Categories: None