Shopping Cart
Your Cart is Empty
There was an error with PayPal
Click here to try again
Thank you for your business!
You should be receiving an order confirmation from Paypal shortly.
Exit Shopping Cart
| | |
| --- | --- |
| Posted by johnnieraz on November 3, 2025 at 2:35 AM | |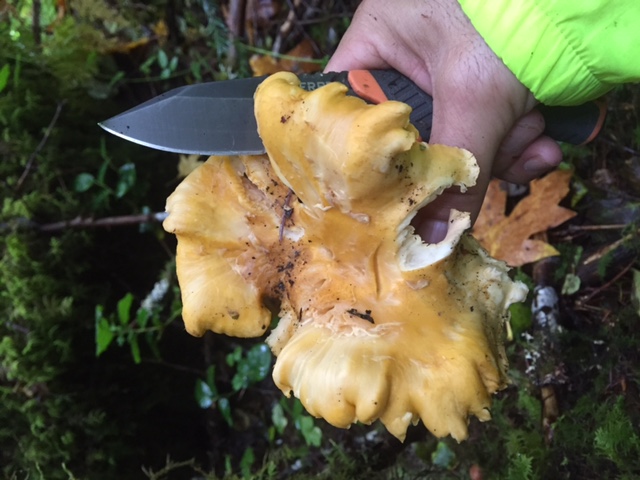 Oregon gold, a Chanterelle mushroom
EDITOR'S NOTE: Since I plan to live to 130 years old, I don't think about my mortality very often. But I do know one thing: Should the worst-case scenario play out sometime out in the woods while I'm hiking or biking, I want everyone to know that I Died Doing What I Love. I'll call this my DDWIL. It's something everyone should leave behind.
By John Rezell
     A steady shower tapped relentlessly on my not-very-waterproof cycling jacket that draped over my hatless head, the water cascading down to my soaked sweatshirt sleeve that dripped down to the ground as I stood on a gravel logging road somewhere deep in the Oregon woods.
    Looking down at the small cross of branches I placed there a few hours earlier, I felt strangely at ease and at peace with myself, even though this was the fourth, maybe fifth and quite possibly sixth time I've strolled past. The branches marked the spot where Ridgely and I first emerged from the woods so long ago.
    I paused to take inventory yet again. Three hours into our hike. Sunset another four hours away. I'm completely soaked save for my feet, which remain dry and cozy inside my boots. I have an apple remaining and three quarters of a water bottle. I have my usual provisions in my backpack for emergencies: First aid kit, firestarting tools and tinder, hammock and a cooking kit. As usual in the Oregon woods, my cellphone shows NO SERVICE.
     Although we've hiked 45 minutes on this road in each direction I have no idea which direction heads to an ultimate deadend and which will eventually connect to another road and a probable route to a more popular road.
      The fact that we are, in reality, completely and utterly lost, seems to have no impact on me whatsoever. All I know is one simple fact: I broke just one of my rules for hiking in the wilderness, and now I'm paying the price. The question is how steep the price will be.

     I do know that if we don't make it out of here tonight, it will be past midnight before anyone knows we are missing. My wife is working very late tonight. My typical goodbye comment when Ridgely and I head to the woods is, "Don't worry until midnight." Right now midnight seems days away in one sense, moments away in another.
     Stay calm. Be logical. Keep moving. That's my mantra.
     My years of hiking and biking around Oregon's wilderness reminds me that logging roads like this one usually climb to the top of ridge and dead end there, but climbing to the west got us to the top of a ridge with the road continuing back down the other side and disappearing into the woods. If I head back that way, and have to turn back, it's another long climb.
     My biggest confidence boost comes from the fact that I'm not tired in the least. I've got plenty of energy. I can keep hiking for quite a while. The question is just which way?
     After hiking up and down the road with no clues as to which way to favor, we made a couple of ventures back into the woods in spots where we could see a clearing of trees, hoping that could get us back to the lake. Each effort did not pan out, even though we followed a couple of creek beds down hoping they would spill into the area where I assumed the lake sat. Nothing. Eventually we ended up back on the road. Back at my marker.

     So, you're wondering how did I get here?
     Let's go back to the start

     Thar's gold in them thar hills!
     That's the call that rings in my ears this time of the year. My call of the wild. My call to escape to the woods.
     Since we now live an added 90 minutes away from all my secret Chanterelle spots — which were already 90 or more minutes away my starting point in Eugene — I've challenged myself to find some new hunting grounds.
     That's all fine and dandy. There has to be a bazillion Chanterelles out there just waiting to be scooped up. The gauntlet was thrown.
     So Ridgely hopped in the back of the Santa Fe, thrilled to be getting back to the woods again. Heck, it had been a whole week!
     We charged up a new highway, at least for us, into the Cascades, and blasted down a new logging road named for a lake. We stopped aside a couple of hunters getting ready to head into the woods and learned it was the opening day of deer hunting season.
     So I dressed accordingly wild and bright, and somewhat light. We stumbled upon a trail to a lake. It was a short hike to the lake. I didn't don any waterproof jacket since I planned to be out for an hour or so at the most, and my cycling jacket was the brightest thing I had along. Besides, this was just a scouting mission and it was only misting at the time.

     It was early for Chanterelle season, but we did have some rain, so I figured I'd get a good hike in first and then, well, if I found a new Chanterelle strike by wandering off the beaten trail, all the better.
     The trail offered nifty hike to a little lake. The path around the lake looked somewhat worn. Up in the Cascades, finding a well-worn trail all around a lake is a crapshoot. Sometimes it's there, sometimes not.
     So we ventured around the lake.
     After taking that nice shot from the far side, nearly three-quarters of the way around (we connected with the lake where the bright red bushes climb up the left side of that rock), we continued on for the final quarter. That's when we had to cross a small stream that trickled into the lake.
     On the other side of the stream, the trail ended. That wouldn't be much a problem most of the time, since we'd just bushwhack along the edge of the lake back to our trail.
     But dang if the forest hillside looked like prime Chanterelle grounds. So we ventured in a little bit, always keeping track of where the lake was in relation to where we were.
     We hit a dry stream bed, and figured it headed back down to the lake since it headed in that general direction. We hiked down it, but it never got to the lake. That's where I made my mistake.
     In 10 years of playing in the woods, my conservative side always took over at this point. I can turn to Ridgely and say, take us back, and she will turn around and sniff her way back the way we came. At that point I still have a strong sense of where we just came from — not to mention a couple of strategically placed markers to know we are on our way back. Instead I forged on, confident I had a good idea where the lake had to be, and we'd eventually head there.
    I was wrong.
    Almost certain that the lake was over the next ridge where I could see some clearing in the trees, we trudged up the hill and popped out on the logging road. A road is good. But no idea which way to go. At this point I realized in my excitement to blaze new territory, I didn't quite catch the actual name of the lake, or did I ever check the forest road number that took us there.

    Now, back to where I started our story, I opted to continue east on the logging road, past our 45-minute previous hike. Another 30 minutes farther we hit the gate for the road, showing that we were on a closed secondary road. Progress, for sure. It brought us to another crossroads. Again, which way?
     My safety net for the whole day was hunting season. There had to be hunters roaming around somewhere. The road looked completely unused, at least today in the rain. And I hadn't heard a gunshot all day. Come to think of it, in all my years of hiking during hunting, I've never heard a shot. Strange.
     I could see that hiking north led up to an overlook. I figured there could be a slight chance I'd see the lake there. So we headed that way. The weather worsened, but not my mood. I was neither freaked nor anxious nor upset, which really lifted my spirits. I had no emotion, really.
     I just kept plugging away, plotting a potential schedule if need be. As long as I'm on a road, I'll keep hiking. No need to hunker down for the night unless it gets wicked. Plenty of light left.
    If it gets bad, I'll set up a fire or shelter of some sort either on the road or right next to it. Before all that, though, I can try an emergency 911 call and hope for reception.

     Thirty minutes later, the overlook was a bust. Nothing but a magnificent view, and a strong intuition that I had to head the other direction. So I did. Once again I passed the gate and headed south.
     This is when I pondered the concept of being physically lost but not losing it. Once you've lost it mentally, it's over. Done.
     As we continued on the road I thought about the backpack filled with forest service maps, including this sector, that sit in the back of my truck. I carry my main backpack with my emergency supplies for even the shortest hikes, like today, but then make the mistake of not having waterproof clothing. I know better than that.
     I figure I can walk into the darkness, for a while, but eventually I need to warm up and dry out. I've played this scenario in my head countless times, and that it might soon become a reality neither lifts or dampens my spirits. Just like Dory, I just keep walking.
    I've noted the forest road numbers, and their intersection. If I can get some cell reception, I can simply ask for directions out. I have plenty of energy in reserve. As we near the five-hour mark of our excursion, Ridgely's gait increases to a trot. I look up. There I see the Santa Fe, parked at the trailhead.
     Yep, no doubt about it. It's a mistake I'll never make again. I hope.
Categories: None
/